Intro
Wise people never run to the market when they purchase a new home or when they need furniture for completing the home because they know there are materials available which can be modified to get the furniture for fulfilling the requirement in the home. Wood pallets are one of the best materials that can be restyled for getting the innovatively designed furniture and other items of daily use. Here we are going to show you 50 awesome wood pallet ideas, which are easy to copy and are shown here to make you life easy.
No one can image how amazing things can be created with the wooden pallets until they see one of them, so we would like to start showing the outstanding ideas for which the pallets are restyled with this reclaimed wood pallets made deck. It can be used for having a meal outside the home and for a tea party as well.
Placing the furniture is not just the only thing which can be used for decorating the garden, the decorative items like the one shown here also work well in making a garden look awesome. It is a great pallets garden art idea to copy for the art lovers.
Here is a simple idea for creating the recycled wood pallet patio garden furniture, it is not painted because the pallets used for creating the furniture is skin in color; which looks amazing as it is. The pallets can be colored if the person wants a funky decoration of the garden.
Mostly people buy the trays for serving that are available at every other store, but those who want everything unique in their home; here is an idea for making a wood pallet serving tray with the slots for fixing the bottle and glass.
Now we are going to show you another idea for adorning the garden, this is a bridge decoration piece and it is easy to copy. The pallets are painted brown to make the bright look prominent in the garden.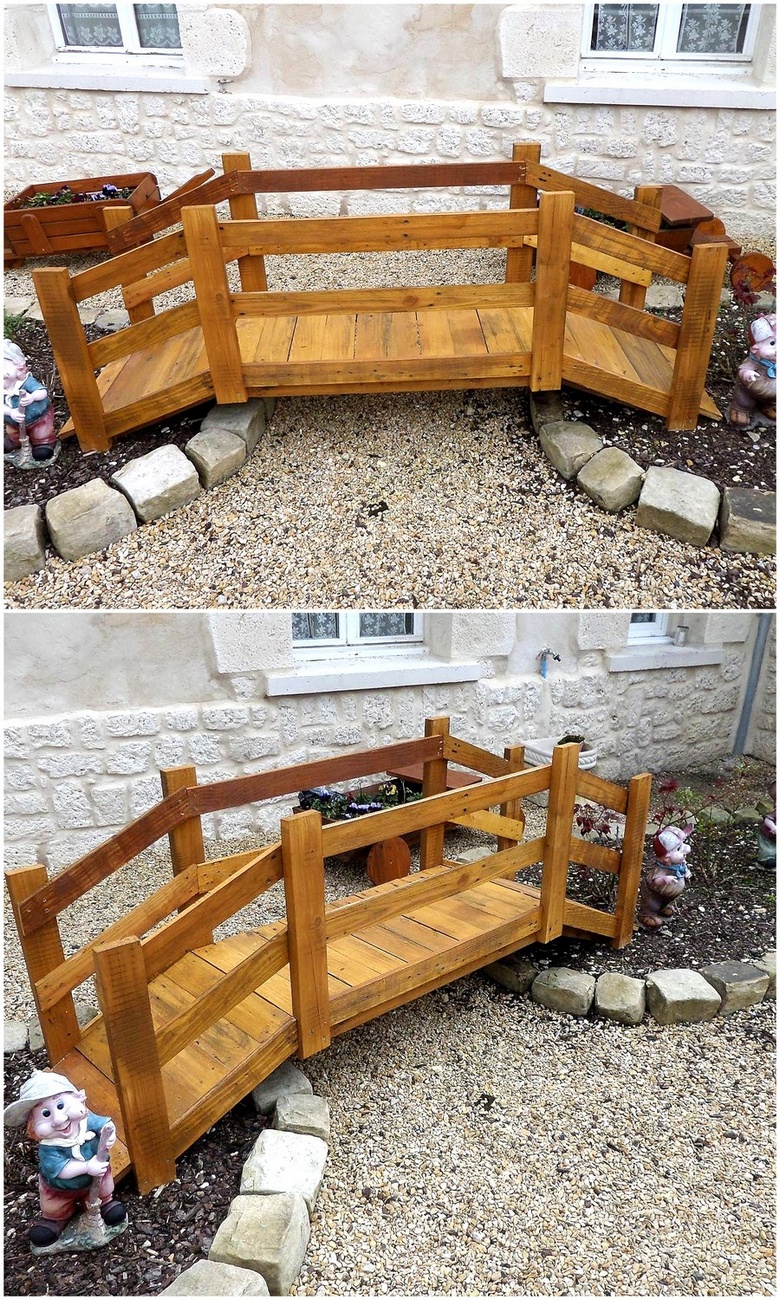 If the home is small and there is a need of the table with the seating arrangement, then this idea of making repurposed wood pallet table with stools is great. The table is diamond shaped and the stools are square, they don't occupy much space, which you can see yourself.
Now come to an idea which is not purely made up of pallets, the legs are ready-made and they are adding to the grace of the table which is simple in looks. The hollow space is left for storing the items, which can create a mess if placed over the table.
Sometimes, there is a need for something in a room for storing the products and placing the decoration pieces. So, this idea of wooden pallet table on wheels is good to copy. It is a small table with one drawer and it is painted white for the sober look.