Okay, guys hang on, I am actually going to present you something that would literally leave you speechless. This is also a response to those who say that we just cannot make some truly worthy things out of the shipping pallets. This is actually something that belongs to all of us. Like it would remind us all our beloved childhood that we always crave someday gets back. This is a pallet wood made baby cradle half moon. First tell me how about the idea overall? You would have seen this wooden article on some huge branded stores carrying a tag of some multiple figures, but don't get scared here it is pretty free for all the pallet wood crafters.

To be honest even I took the inspiration from a mega brand of furniture that is known for its individuality and I couldn't even think of buying it.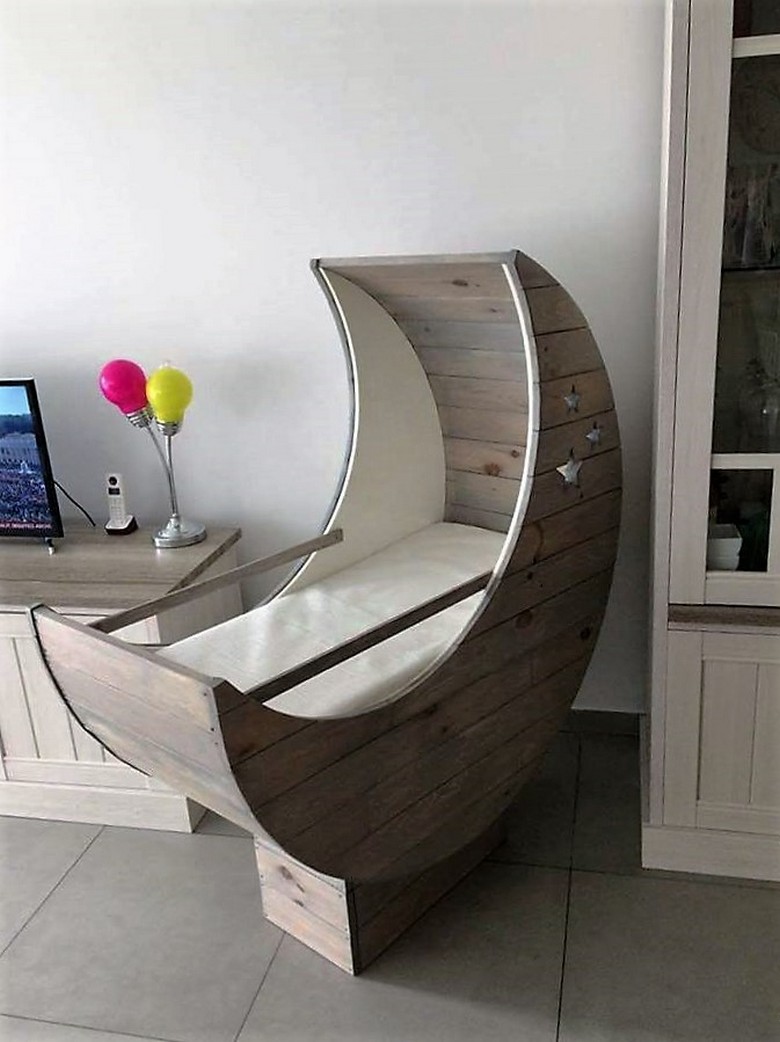 This is going to be something pretty mesmerizing and especially a truly adorable present especially for your kids and those who are newly born. So just make up your mind to prove yourself a great dad or a gusty mom who can go all the miles long in the pursuance of the happiness of their kids.

Although it carries a pretty tricky and complicated sort of design that could be risk for the beginners. But the ones who really have spent some good amount of time on working with the wood pallet would really enjoy working on this rustic and unstained wood pallet repurposed kids cradle. Just be specific in the matter when it comes to cutting. Make a base wooden box, and then cut each plank that would fit in a perfect curved circle as shown in the pattern. Use high quality glue and other supplies. Also be cautious in selection of the timber or the pallets.

Created & Shared by: Johanna Rotsaert